2022 Ulster County Executive's Arts Award for an Individual Artist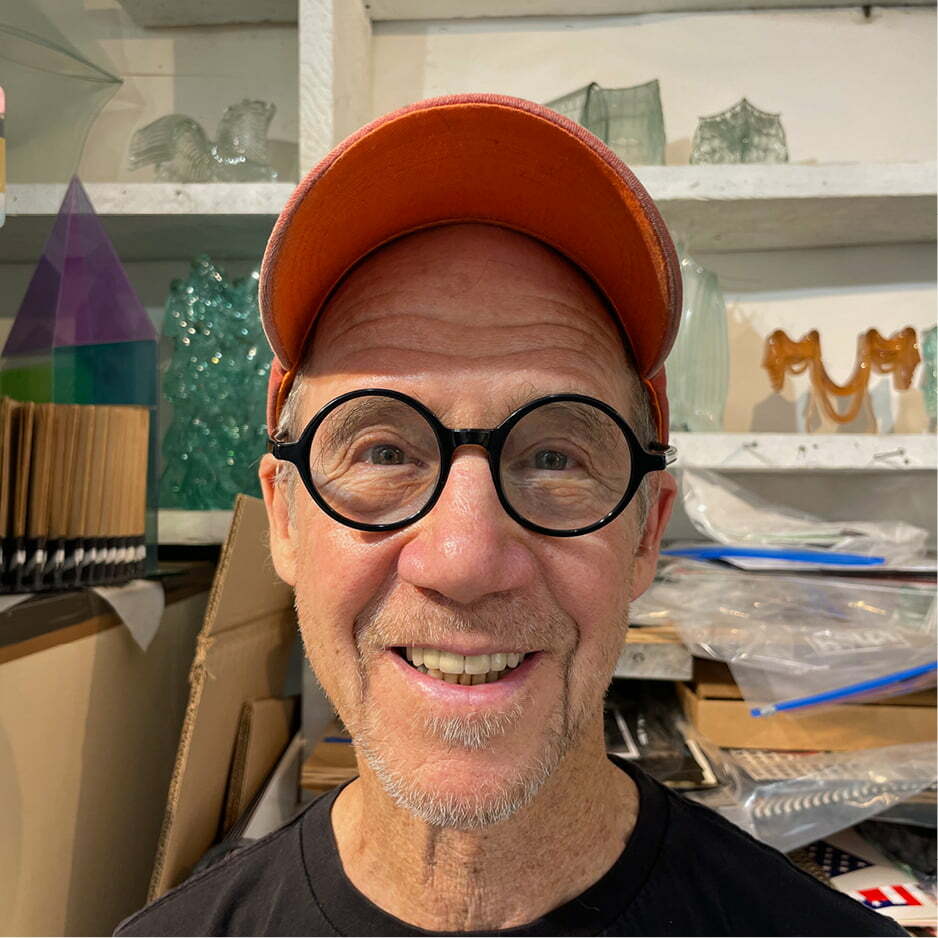 An artist for more than 40 years, Sydney Cash of Marlborough has explored a variety of media, including paint, glass, assemblage, and even light and shadow.
"I would describe myself as an inventive artist," he said. "I seem to have lots of intimacy with different materials. Somehow, I get curious about something and I start, one could say, playing around and fooling around with it. Things happen and I see possibilities."

More recently, Sydney has been painting patterns onto portrait imagery, remastering portraits in the process.
"What started as an experiment of painting on my extra passport photo turned into a major creative endeavor of facial transformation, texture and revitalization," Sydney wrote on his LinkedIn profile. "The exploration progressed from historical oil portraits to contemporary photographic portraits and most recently, my photographic portraits."

Offering insight into Sydney's artistic process is the fact that details like framing and matting receive special attention with these works and are as critical to the artwork as the portraits.
"The matting is often textured materials (like fabrics and wood veneers) or parts of my old paintings," he wrote. "The paper portraits are bonded onto sheet aluminum for flatness, however sometimes the aluminum is bent or curved, giving the images a bas-relief dimensionality."
Chronogram in a recent article described Sydney's approach to creating a work of art as, "carrying meaning beyond its material presence. In a world that is increasingly virtual, Cash is scientifically addressing the empirical reality of the work he is making in an effort to reveal, however fleetingly, a glimpse of transcendence. His way to locate meaning in art both for himself and the viewer is to perceive the unseeable in the seen."
For his singular approach to creative expression and the manner in which he embodies the passionate pursuit of all things artistic, Sydney has received the 2022 Ulster County Executive's Arts Award for an Individual Artist.
"I feel honored," Sydney said. "It's a nice acknowledgement of the creative life that I've lived in Ulster County."
Cash, who grew up in Detroit, moved from New York City to Ulster County in 1983 and lives in a renovated farmhouse located in a serene rural setting.
He has taught at Pratt Institute, The New Jersey City University and The Brooklyn Museum Art School.
He has received fellowships from the Pollock-Krasner Foundation, the New York Foundation for the Arts and The National Endowment for the Arts.
And his work is in many public collections, including MoMA, The Detroit Institute of Arts, Le Muse Des Arts Decoratifs in Paris, The Corning Glass Museum and the Samuel Dorsky Museum.
Asked why we need art, Sydney said, "It gives people an opportunity to transcend their life—to be connected with something that's more beautiful, maybe more spiritual, something that just takes them out of their everyday responsibilities into some place that has a different kind of energy."
Profiles Designed and Developed by: